-advertisement-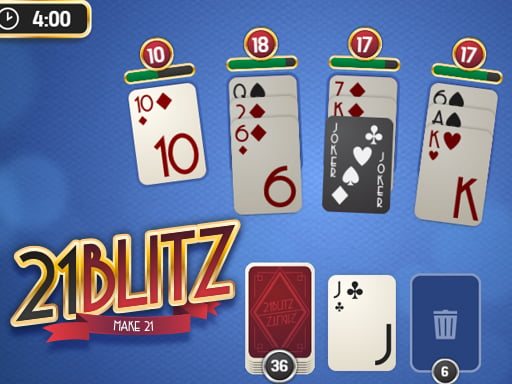 Play Online
21 Blitz
From
: October-24th-2019
Tags
:
HTML5 Games
,
21 Blitz is a strategic card game which shares some of the rules of Black Jack. But unlike in the slow paced Black Jack the goal is to add up the cards to 21 as quickly as possible in the 4 available slots whilst having to complete 2 decks of cards. Think carefully about the cards you use and the cards you trash, before you know it you will find yourself running out of options. It seems like a simple task but can you think ahead and remember which cards have already been played?
Combine the cards in each slot to 21. Get more points by making 21 with just 2 cards (Black Jack) or get 21 Blitz by combining 5 cards to 21! The sum of each slot is not allowed to exceed 21. If all slots are full and you cannot place the drawn card anywhere you then have to discard this card or use the joker instead. You get one Joker per deck to play. The joker combines any slot to 21! Use it to get rid of the hard stacks or when you are stuck.
21 Blitz is an online HTML5 Games game that we hand picked for 8Fat.com. We offer you a variety of most popular games here. This is one of our favorite HTML5 Games games that we have to play.Simply click the play button to start, having fun.